(DDB career wives tell howthey do it.)
Jane Snow(Account Executive)
My husband and I lead a very active social life, and we do a lot of. entertaining.
So when I'm in a jam, he pitches in and helps.
He's really very considerate about it.
But if everything goes smoothly, the maid shows up, the laundry man shows up, and the jam doesn't develop.
Unfortunately we have no children, someone stole our dog, and we sold our boat, so I have very little responsibility other than the husband.
Both of us are pretty good cooks.
So we share that, depending on what we're better at.
And I have systems.
If I have a dinner party, I cook the day before, and hire a butler to serve.
So working allows us to live in this way that we can afford to hire butlers and have a place out of the city for the weekends.
As for pressure, you don't take it home.
I mean you take it home but you don't talk about it.
I don't think it's advisable for a woman to take her woes home to her husband.
So if I'm uptight, as I sometimes am, I take a hot shower, change, take a stiff drink, or maybe catch a 15-minute nap before he comes home.
If not, I just sort of suffer until I get over it.
But I think a woman whose washing machine breaks down, or who has troubles with the children, or whose garbage man doesn't come can be just as uptight as I have been from client meetings.
It seems as if I have been married all my Iife, and I've worked for all but about six months of my entire adult life.
So it's a way of life that I'm used to and enjoy.
When I took time off, I baked millions of cookies and wrote articles, none of which I ever managed to sell.
I think working protects you from that rigidity that so many people have, because you're in a constant flux. And from my standpoint, my husband likes me to work.
He thinks it's much more contributing for me to work - I'm not talking about financially, but as a human being - than for me to, say, stay home and clean the house. You can always hire someone for that.
       ★     ★     ★
Penny Hewitt(TV Producer)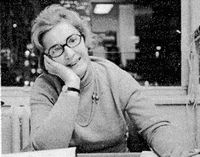 It's very easy, as a matter of fact.
I'm married to an actor, which means that we both have to have very flex ible ideas about our life together, because sometimes I'm away on location, or he'll be on tour for six months.
So you just learn to get along and see as much of each other as you possibly can.
I'm incredibly lucky because my husband is a very good cook.
It's kind of a hobby with him because when he was an actor in England, he lived in so many horrible boarding houses that he had to fearn to cook in self defense.
So I get home at night to beautifully cooked meals.
I would like to say that I do all the housework, but I don't.
Robert is marvelous, and he'll do a terrible blitz on it with the vacuum cleaner.
He minds, but he's just very good about it.
Like now.
He was in Hadrian VII, I'm working, and he's looking for the next thing.
We don't have a maid.
We don't have children.
We always live in a slight ..element of confusion. The silver just doesn't shine as well as it should.
It bothers me, but it's not as important as some other things, and I'd rather go up to our place in the country than worry about finger marks.
Robert does all the shopping during the week.
When we're in the country, we do it together.
I was working when I met him - at Ogilvy in London - and he was at the Old Vic at that time.
So since he works at night, he has more time that I to do things during the day.
It's just worked out to be more convenient for both of us that way.
I guess we've got it fairly well organized.
When we go away, the cat goes to the kennel.
I'm Gemini ... Robert says I'm schizo like the cat. But perhaps that's how I can manage a career and being married to an actor.