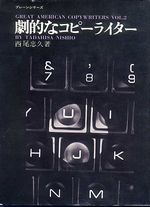 from "Great American Copywriter Vol.2"
Tadahisa Nishio
published in March 10, 1971
Mrs. Robinson Another favorite is Clairol, which is the other account I have worked on in the fast few years. It is an instant shampoo called PSSSSSST.
One of reason that this is the favorite of mine is that I really worked on that from the very beginning, from the product idea which the client presented to us. First of all the name was mine. I worked with the art director on the packaging idea and even on persuading the client that this was a salable item that really should be promoted. The commercial was a rather simple demonstration, done in a very contemporary way, very fresh and bright. Also I wrote a jingle that's very satisfying to me too, Mitch Leigh, who has collaborated with me on many jingle, wrote the music for it.


"PSSSSSST" TV CM
Clairol