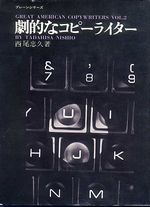 from "Great American Copywriter Vol.2"
Tadahisa Nishio
published in March 10, 1971
chuukyuu Please choose two favorites out of all the works you have done for these few years. Would you please tell me the reason why you like them and some episode when you made them, if you have.
Mrs. Robinson I suppose for Polaroid, one of my great favorites will like always be the "Zoo" commercial, which is now in the Museum of Modern Art of film library.
It was one of the earliest of group commercials of which we did many. And I think because it was a departure at the time from what had been done before it was interesting to me. I think it was also one of the most successful of that group.
This is the commercial in which a father takes his little girl to the Central Park Zoo and they just have a good time together and he takes pictures and at the end they go off in a surrey and she is sleep and he's looking over the pictures.

I suppose one is not always aware of the personal thing in one's life that go into one's work. I think we have, all of our personal experiences somehow get into our works. But in this case, I am very mach aware of it, because when Bob Gage and I did that commercial, my daughter was a very new experience to me. I enjoyed so much seeing this tender relationship between my husband and my daughter.
At first it seemed like a terribly over-sentimental subject for a commercial. But I felt, here is something real and good. If we can do it with warmth and with taste, it would he an effective commercial.
So many writers seem to be afraid of using human warmth. Humor is very big and very important in commercials. (In print work too, but especially in commercial.)
But copywriters seem to shy away from using tender and genuine human emotions. It has to be done with great care.
(to be continued.)
from YouTube